About us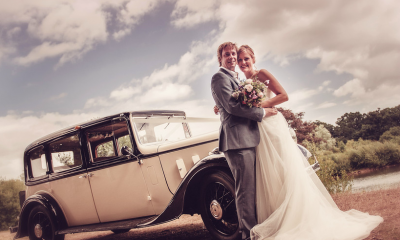 About us
Austin Beauford Wedding Cars is a family run business based in Poole, Dorset.

The proprietor, Mike Bartlett is first and foremost a vintage and classic car enthusiast who has owned these type cars for over 20 years and has used his vehicles for hundreds of weddings during this time.

We are not an agency, all our cars belong to us and are maintained to the highest standards, some of which have won numerous awards for their condition at national car shows over the years.

We encourage you to view our cars to see for yourself how beautiful they are, prior to making a decision.

All our drivers are immaculately dressed in full chauffeur uniform and complement our immaculate cars. Most of our drivers are retired police advanced drivers and members of the Institute of Advanced Motorists, so you will be in the safest of hands on your special day.

We operate within a 50 mile radius of Poole, some of our older cars we like to use closer to home, however some of our other cars can operate outside that area, so please contact us to discuss your requirements.

We aim to provide you with a friendly, professional service and a beautiful vintage or classic vehicle to transport you and your wedding party on your very special day.

F.A.Q's
Do you own all your cars?
Yes, all our cars are owned by us, we are a small family business, not an agency, based in Poole.
Is there a time limit on how long we can have the car?
No there are no time limits within reason, as we only book one wedding a day for each car.
Booking a car: How do I do it? What is the deposit? Can I pay by card? When is the balance due?
To book a vehicle (or vehicles), please contact us first by phone or email to check on availability. We can then confirm availability as well as the price of hire. We will then hold the booking provisionally in your name and send you a booking form, either by post or email, for you to return with a deposit of £50 per vehicle. The remainder of the hire fee is payable up to 14 days before the wedding.
Unless otherwise agreed with you we will hold the booking for 2 weeks to allow you enough time to return the booking form to us. We can accept cash, cheque, or payment by BACS (internet banking)
Sorry we do not accept credit or debit cards.
Are there any hidden charges?
Absolutely not, the price you are quoted is the only price you will pay.
Our prices include all ribbons and bows, colours of your choice and there is not VAT.
Can the car make two trips to the ceremony venue?
Provided the distances involved are short, yes we can do this. An extra charge of £25 will normally be required. You must allow sufficient time if the car involved is much older and travels at a more leisurely pace.
Can young children travel in your wedding cars?
It depends on the child and the car. Children under 4 (four) years of age must be belted into any car they travel in. This is an absolute legal requirement which we must obey. Unfortunately not all of our cars have seatbelts (fitting them was not a legal requirement in the UK until 1967), so many of the older cars do not have them fitted. Once a child has reached 4 years of age it is not a problem as he/she can freely travel in the rear of a car that does not have seatbelts.
With regards to the question of young children travelling in our cars, before you make your booking it is always best to check with us first about seatbelts if you are not sure.
Do you provide service outside of the Bournemouth /Poole/Christchurch area?
We cover an area up to 50 miles from Poole. Some of the older cars are very restricted on the distance that they can travel. With regards to the price we charge that will depend on where the wedding will take place and what requirements you have. If outside of the area of Bournemouth/Poole/Christchurch our quotations are based on the information you provide us with.
Can we have some photos with our Wedding Car (s)?
Yes you can. Normally around 30 minutes is sufficient for photographs at either the wedding ceremony or reception venue or both and this is naturally included in the price quoted.
If you require extra photographs at another location en route to the reception, then there is no extra charge. However if you deviate from the route then an extra cost may be charged.
Are your cars available for Proms, Anniversaries, or other events?
Due to private hire regulations administered by the local authorities, we regret we are unable to provide this service.
Can I book a wedding car as a surprise?
Absolutely. Perhaps you are a bride wanting to surprise your groom (and his best man) with a ride to your wedding in a classic car, or you are wanting to surprise your parents with a car that will make the big day even more special. Please mention this at the time you make your enquiry. We are used to keeping secrets and springing nice surprises, and will mark your records as "Keep Secret from Whoever", and ensure that any contact is made in such a way as not to give the game away.
Can we get picked up in the evening after our wedding reception?
Sorry this is not a service we normally provided, however please ask.